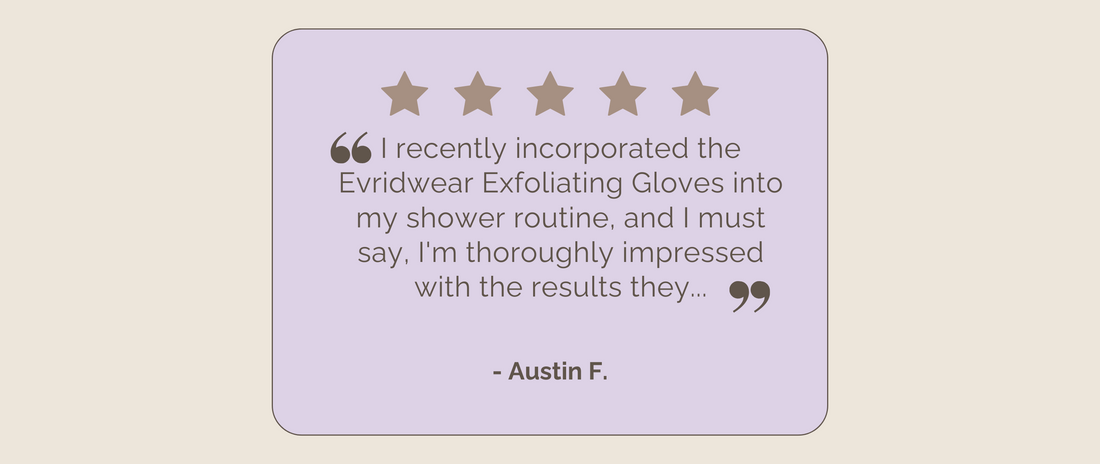 Revitalize Your Skin with these Remarkable Body Exfoliating Gloves!
Austin F. - ⭐⭐⭐⭐⭐
"I recently incorporated the Evridwear Exfoliating Gloves into my shower routine, and I must say, I'm thoroughly impressed with the results they deliver. These gloves have proven to be a game-changer when it comes to achieving smooth and revitalized skin.

The primary purpose of these gloves is to exfoliate the skin, and boy, do they excel at it! The textured surface of the gloves effectively removes dead skin cells, leaving my skin feeling rejuvenated and incredibly soft. Before using these gloves, I struggled with dry patches and rough skin, but now, I can confidently say those concerns are a thing of the past. The exfoliation process is surprisingly gentle yet thorough, ensuring that my skin is polished without any harshness or irritation. This makes these gloves suitable for various skin types, including sensitive skin like mine.

One of the most impressive aspects is how clean and refreshed my skin feels after each use. Not only does it eliminate dead skin, but it also seems to enhance blood circulation, giving my skin a healthy glow that lasts throughout the day. I have noticed a significant improvement in the overall texture and appearance of my skin since incorporating these gloves into my shower routine.

However, they do take some time to dry completely after use. It's essential to hang them on a hook or towel rack for a couple of hours post-shower to ensure they are ready for the next use. Although this might be a slight inconvenience, the benefits the gloves offer to make it more than worth it.

Additionally, these gloves are designed with durability in mind, and they have certainly lived up to that claim. I've been using them regularly for several months, and they show no signs of wear and tear. The elasticized cuffs ensure a snug fit on my hands, preventing any slipping or discomfort during use.

These gloves have earned their place as a staple in my shower routine. Their ability to effectively remove dead skin, leaving my skin feeling soft and clean, is nothing short of remarkable. If you're looking for an efficient and gentle way to exfoliate and revitalize your skin, these gloves are a fantastic investment that will leave you with skin that feels fresher and smoother than ever. I will be buying another pair to try different textures!"